Special Report: Feb 6, 2014
A couple of years ago a friend sent me the link to a web series called The Slope, a satire of life in that part of Brooklyn. I thought it was funny, and I emailed the two creators of the show offering to write a theme-tune.
I became friends with one of them, Desiree Akhavan, and when she started working on a script for a feature film, she asked if I would compose the music. About a year later, she sent me an edit of Appropriate Behavior, which she not only wrote and directed but also stars in. I had just a couple of weeks to write and record music for the film, in between Breeders shows in Australia and our final Minnesota to NYC run.
In December when Desi told me the film was going to premiere at Sundance she added, "You should come to Park City!" Swept along by her breezy optimism, despite having no idea where I was going to stay (places are booked-up months in advance) I found myself throwing caution to the proverbial wind and buying an airplane ticket. A week before the festival, my best prospect was a half-share in a sofa-bed with a complete stranger courtesy of an email thread from Brooklyn Film-Makers Collective. You can imagine how I rejoiced a few days later when Desi came through with, "If worse comes to worst, you can sleep on the floor in my room." I began to feel a new appreciation for the nights of carefree hotel accomodation on tour: I am sorry I maligned you and your free chocolate-chip cookie, Doubletree by Hilton.
"A week before the festival, my best prospect was a half-share in a sofa-bed with a complete stranger courtesy of an email thread from Brooklyn Film-Makers Collective."
Looking out of the window on my first morning, Park City was revealed to be a valley filled with Range Rovers sparkling in the sunlight reflected by a perimeter of ski slopes. Observing the procession of people riding lifts up the mountain and careening down, I realized that I had never actually seen people skiing except on television. I went ice-skating once and on another occasion found myself on cross-country skis, but on both occasions was overcome by the primal feeling that we humans are supposed to avoid slipping at all costs, not make it a pastime. In the elevator I encounter a man with a broken leg and felt vindicated.
As is my custom when exiting a hotel, I ask the receptionist for a street map, to which she replied, "Um, we don't have one.…" Puzzled by this cavalier attitude towards latitude and longitude I went outside and started walking and realized that there are only about four streets in Park City. As I turned onto Main Street, I skirted a swarm of people buzzing around someone getting into the back of a black Range Rover. Too proud to ask who it was, I continued on to the next block only to witness another mob suddenly erupt with shouts of "It's the guy from Lord of the Rings!" Having chatted with Elijah Wood at the Breeders after-show party in LA last summer, I was confident that it was not him, and I thought condescendingly to myself, "Oh, people, that is so not him." It seemed like a tweetable moment so I pulled out my phone. Seconds later, the screen lit up, "You have been mentioned in a tweet." @woodelijah: "Josephine–are you in Park City?!" "Yes!" I typed, "Are you??!" and wished I had not scorned the collective consciousness on the subject of celebrity sightings. I tried to make myself feel better by retweeting Kate Schellenbach's tweet accusing me of "hobbit-knobbing."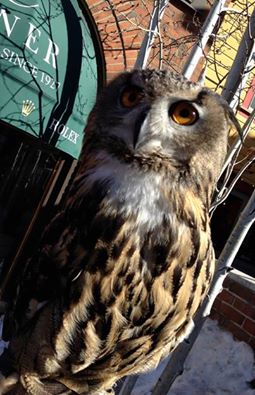 Though having failed to recognise Elijah, making contact with him makes me feel quite in the swing of things, and I decide to walk the length of Main Street to see if I can spot some more celebs. When, within a few blocks, I see Elizabeth Moss, Michael Pitt and then Ethan Hawke I feel something almost approaching excitement, though of course I do not show it. Next I encounter a cluster of people blocking the sidewalk and I elbow my way to the front to see who they are photographing. It is an owl, perched on the wrist of his handler-agent. The owl has piercing orange eyes and exuded the sort of majestic, silent long-suffering perfected by George Clooney in his role in The American. I did not want to add to his indignities by taking a selfie with him, but I did ask his name. "Bubo," the handler replied. "It's Latin for Eagle-Owl." My thoughts unavoidably turn to the Bubonic Plague, whose eponymous symptom (a swelling of the lymph glands) mysteriously shares the same name. I take the owl's business card and walk back down Main Street to attend the premiere of Appropriate Behavior.