Dayton Diary: May 11, 2014
When I tell people in New York that I am driving 11 hours to Dayton for rehearsal their response is invariably "You're driving???" and I reply, yes, it's true.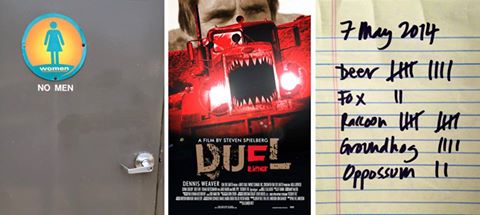 To let Kim & Kelley know that I am on the road, I text a photo of the ladies room door at a gas station in New Jersey. It is marked with the international sign for a lady (stick figure in a dress) with "Women" written underneath, and below that it says "No Men." Sometimes at rest stops where there is a long line for the Ladies, we have all of us made emergency but gag-inducing use of the men's room, so we are well aware of the conditions they are trying to prevent, and I for one appreciate the enforcement of segregation. (Yes, I am aware of the hypocrisy here.)
Kelley replies, making no reference to the photo, saying "Don't forget the Road Kill Tally!" I am pleased by this, since I have catalogued the number and species of mangled animals I see on the highway on my previous trips and texted it to her upon arrival. She has never mentioned this before now, and I was starting to think she wasn't interested.
"Don't forget the Road Kill Tally!"
Several hours after entering the Keystone state, I text "Pennsylvaniaaaaaaaaaargh" to Kelley and Kim and Jim, to let them know that I am still in it (it is some 300 miles east to west). Happily, this section of the journey, since it is through coal country, is enlivened by a parade of road-side billboards presenting the very latest thinking in climate change denial. My favorite is a headshot of an Asian lady wearing a hat and sunglasses, which I recognize to be Yoko Ono, captioned "Would you take energy advice from the woman who broke up the Beatles?"
Turning my attention back to the road, I see that the view offered by my rearview mirror is entirely filled with the front grille of a tractor-trailer emblazoned with light bulbs arranged in the form of a crucifix. For some reason I find this vaguely intimidating, though to be fair perhaps it is merely the vehicle's proximity and speed which have put me in mind of the 1971 Steven Spielberg movie "Duel," featuring a predatory Peterbilt 281 truck.
I am relieved to cross the Ohio state line because it means the drive is nearly over. It is now dark, and Dayton's own road-side billboards are illuminated with a welcoming glow, first, a photo of a speedo-clad bronzed Adonis, flanked by two equally bronzed ladies in swimming attire, whose hair would be at home if it found itself in 1977, advertises $10-a-day tanning; next, an illustration of a man with "tattoo" tattooed on one forearm and "removal" tattooed on the other, in advertisement of a tattoo removal service.
I arrive at Kim's house and total up the tally: nine deer, two foxes, ten raccoons, four groundhogs, two opossum.
— J.Wiggs