Dayton Diary: April 30, 2015
Thanks for all the responses to our invitation to design a card to fill in the "Missing Link," as it were, to complete the Breeders set in the trading cards series, Ohio Rock.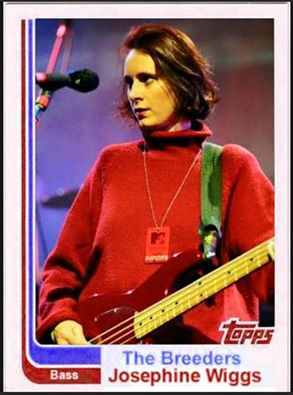 Yes, it is true that I am not a Daytonian, Ohioan, nor even American, but I like to think of myself as an honorary denizen of Montgomery County. Oh the time I have spent there, often at Woodland Cemetery or in Patterson Park looking for mushrooms, awaiting the universal signal that rehearsals are about to start—a text that Kim is "at Starbucks."
Anyway, back to the contest…
I enjoyed seeing them all, and a couple of highlights include:
Sarah Cronin's choice to use Gothic lettering for her caption to the photo of me and Timmy the (stuffed) cat.
Ryan Darley's use of a photo (nicely superimposed over the album art from my 1997 album Bon Bon Lifestyle) taken after I'd given Conan O'Brien a hickey, wherein the smudged lipstick creates a Joker-ish grin, which gives me an idea—how about it, Joe Eversole? (creator of the cards) As an "alien" maybe I can be the Joker in the pack?
Amye Subject's combining of the words "badass" & "bassist" to create "Badassist." This submission might have been a contender to win for this wordplay alone, however, in order to be consistent with the rest of the Breeders cards, I suppose it should be a vintage photo.
I liked Xaviera Sepulveda Corfio's card which uses a still from the "Saints" video, though, now I think about it, the sky and trees in the background don't seem very "rock," so I think I am going to go with one of the several entries with the "red sweater" photo, namely, Sacha Maxim's version. As a fan of a monochromatic scheme, I am fond of this photo, though am mystified as to why I would have chosen to wear a thick woolen sweater to play a show.
Thanks again everyone.
—JWxx