I do not like lying down, or sitting, on the ground. There is an unpleasant clamminess about it. And lawns hide a microcosm I prefer to keep at a distance. I make an exception for sand, though of course it has its own problems. However, I like nothing more than being outdoors, and sometimes, have been known to pitch a tent in it.

I like the accoutrements of camping; headlamps, speckled enamel plates, making do with a spork. I enjoy the modernist minimalism of machined titanium (perfect for "Alpine-style sprints to the summit") but I also appreciate the wool and canvas vernacular of Scott and Shackleton; the expeditionary equipage from the heroic, "I am just going outside and may be some time," era.
One afternoon, I make a foray to Cabela's ("world's foremost outfitter") store in Centerville, 5.9 miles SSE. On the spectrum of outdoor outfitters, I had a feeling Cabela's was toward the leather and canvas end—along with L.L. Bean but without the pretensions of monogramming. Their emphasis on hunting, shooting and fishing, however, had escaped me until now.
From far away, across the acres of parking lot which surround all sites of commerce in these parts, I spy a cluster of red, orange and yellow kayaks and camo canoes, propped vertically against a patch of crazy-paving appliqued to the storefront, an aid, no doubt, to imagining them in action in the great outdoors.
On the wall by the entrance are five man-sized objects like large camouflaged sleeping bags. I learn that they are Field and Laydown Blinds. Hung pendulous here, they are reminiscent of chrysalises dangling from a twig. However, the quiescent creatures for which these encasements are intended could not be more unlike a butterfly, about to unfold its shimmering wings, meander on the breeze sipping nectar, and inadvertantly beautifying the world.
Cabela's catalog offers thirty nine models. Top of the line is the Beavertail Predator XCS Layout Blind Combo ($589.99), "you'll see the geese but they won't see you." The Tanglefree Deadzone (sic) Layout Blind with Bonus Snow Cover ($349.99) allows you to "virtually disappear in snow-covered terrain," and the innovative Delta Waterfowl Gear Zero Gravity Layout Blind ($279.99) has a "no-floor design [which] keeps the blind cleaner than most." This is a cunning approach to dirt, perhaps akin to keeping your clothes clean by adopting the strategy of going nude. Finally, the Northern Flight Mobile 1 Layout Blind (on sale at $119.99) features a "camo mesh face screen for complete concealment" and "full-size cockpit." In the world of Field and Laydown Blinds, clearly the word "chair" is insufficiently dynamic to capture the high-octane daredevilry of hiding inside a nylon bag.
All models feature "stubble straps" to "add vegetation for extra concealment, keeping you shielded from wary hard-hunted birds." This phrase is poignant enough, but the MOMarsh Freedom Hunter Blind ($189.88) nudges poignancy into irony. Named after Freedom Hunters (an organization honoring members of the Armed Forces) "it is the ideal set-up for a wounded veteran with limited mobility." I can't help feeling that having themselves suffered the terrors of being shot at, they might choose not to pass the grisly experience on.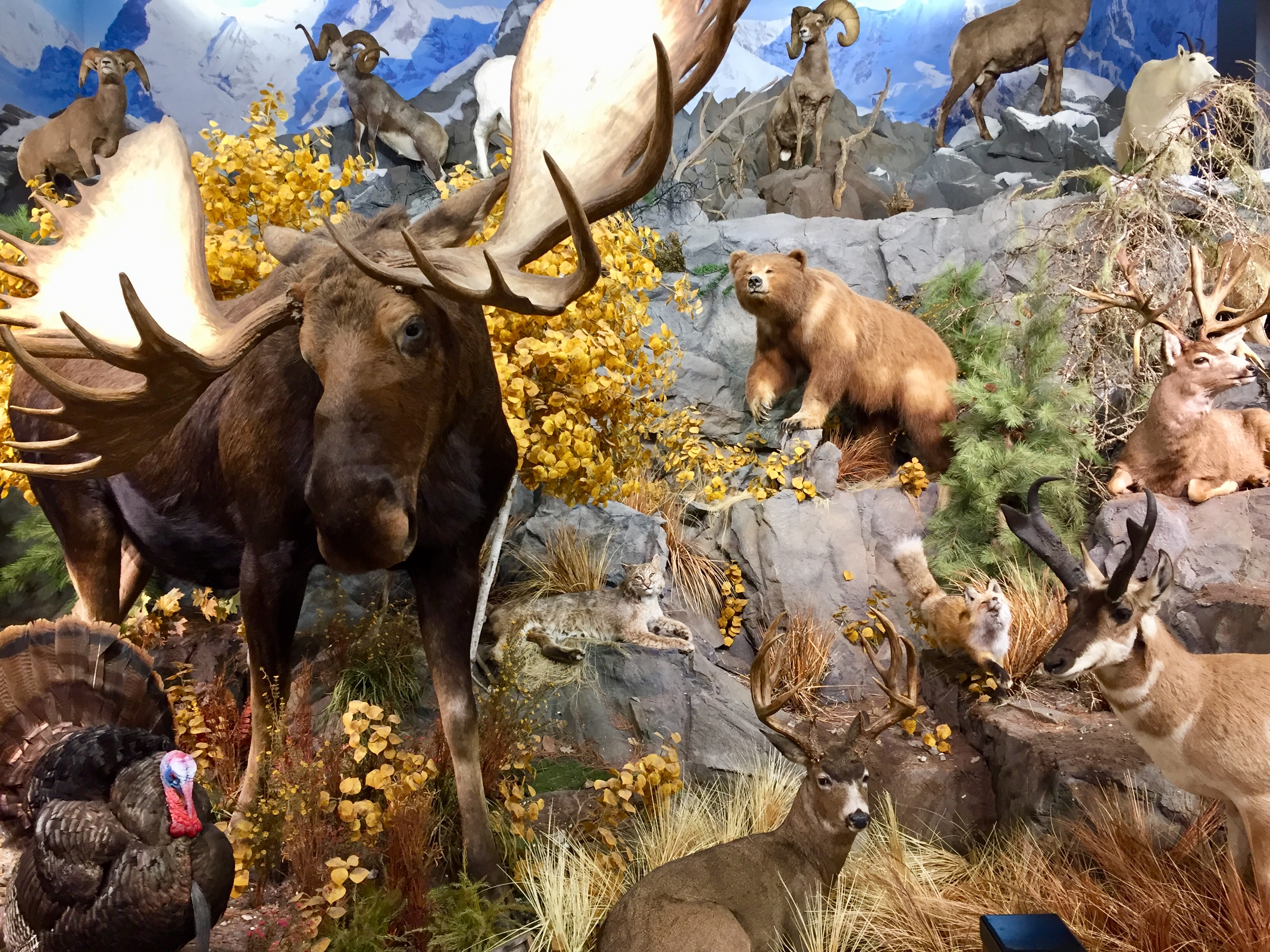 When I enter the store, three pairs of eyes stare glassily in my direction. A dramatic diorama displays a family group of taxidermied White Tailed Deer. I ponder at the paradox of a mind possessing a surplus of sentimentality—inventing an entirely fictive cervine (the adjective for deer) nuclear family—whilst simultaneously in the grips of the wholly unsentimental desire to get them all—father, mother and child—in the cross-hairs and pull the trigger.
I decide to peruse the Hobbies section, hoping to find kites or perhaps bubbles—essential equipment for any camping trip I'm involved in. The first thing I see is the the Bug-A-Salt plastic assault rifle ($52.99). "Use ordinary table salt as a lethal projectile," available in camo, yellow or pink camo. "Insect hunting as sport has entered the 21st century with this fun new non-toxic device." Fun and non-toxic for some; not so much for others, since salt lethally dessicates insects. Or as the Roman philosopher Lucretius (99 BC-55 BC) aptly put it, "quod ali cibus est aliis fuat acre venenum," "what is food to one, is to others bitter poison."
As for 21st century remediation of trespassing insects, I think the more advanced technique is the one employed by my mother in about 1952. When a student at Nottingham University, she lived in a country cottage which a nearby ant colony considered part of their domain. Oblivious to the threshold, ignorant of "indoors," they marched back and forth to forage in the kitchen in a continuous black ribbon. Did she trace them back to their nest to douse it in boiling water? She did not. She opened a tin of treacle and placed it on the front door step, creating a delicious syrupy barricade which stopped the ants in their six-footed tracks to feast, needing to transgress no further.